In this series: I am tracing my Irish roots and trying to pinpoint what part of the Emerald Isle my ancestors hailed from. Learn more here.
Where I left off: In my last post, I talked about trying to find John's father Batholomew. While I was unsuccessful, I did find a potential candidate living in Bayonne who I refer to in this series as "Bartholomew of Bayonne."
I concluded that the only evidence I had of this father/son relationship was a name, approximate age, and location. There was no direct evidence of this relationship, and the indirect evidence was rather weak. But before I could write off this possibility, I got a new DNA match who descended from none other than Bartholomew of Bayonne.
In this post: Now that I have this new DNA match and potential connection to Bartholomew of Bayonne, I need to independently verify the family tree of my new DNA match.
My New DNA Match
For privacy reasons, I'll be referring to this DNA match throughout this series as "MJ". Note that I never share any real names of my DNA matches or of those in their trees if they're still living.
MJ has a family tree posted on Ancesty.com that traces back to Bartholomew and Catherine Dignan of Bayonne. The same couple I discovered in my previous post.
If this Bartholomew turns out to be the father of John, then my relationship to MJ would be the following: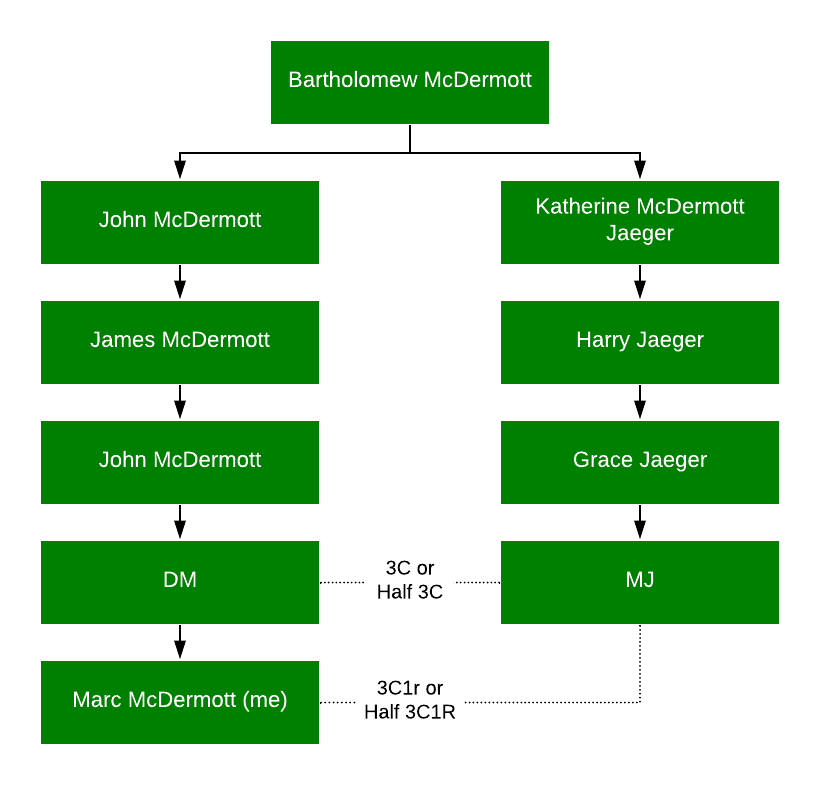 In this scenario, MJ and I would be third cousins once removed (3C1R) or half third cousins once removed.
More importantly, MJ's connection to my dad (DM) would be either 3C or half 3C.
I say half 3C so as to not rule out the possibility that Bartholomew had children with two wives, both named Catherine. It's very possible that my dad and I could descend from Bartholomew's first marriage and MJ from his second marriage.
After all, we saw in the last post that Bartholomew's wife (Catherine Dignan) was born ca. 1830 which means she would have been much too young to have John in 1843. Not to mention that Bartholomew and Catherine didn't marry until 1856 – thirteen years after John was born.
Fortunately, my dad has also done a DNA test with Ancestry and matches with MJ so I'll be using his test results instead of mine to evaluate this relationship.
Why would I use my dad's DNA results instead of mine?
Because if both me and my dad share DNA with MJ, that tells me that I am most likely related to MJ on my paternal side – through my dad.
And if that's the case, then I do not share any DNA with MJ that my dad doesn't also share with MJ, making my DNA irrelevant when evaluating this match.
My dad will share much more DNA with MJ than I do since the shared DNA is diluted with each new generation.
Here's a theoretical representation of that dilution: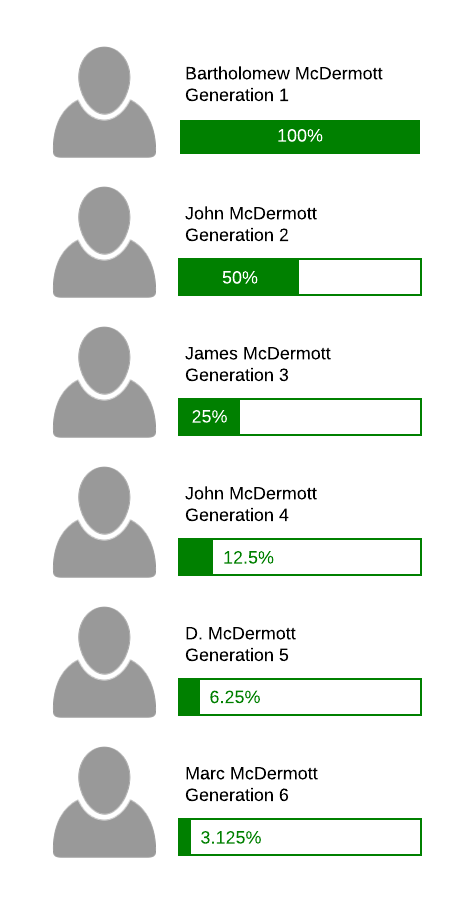 My dad would have more of Bartholomew's DNA than I do. This is why it's so important to test the oldest generations in your family.
Our Shared DNA
According to Ancestry, my dad and MJ share 64 centimorgans (cm) across two segments. Ancestry predicts the relationship to be fourth cousins.
But thanks for the Shared Centimorgan Project and DNA Painter, I know that there are many other possible relationships with that amount of shared DNA including 3C and half 3C.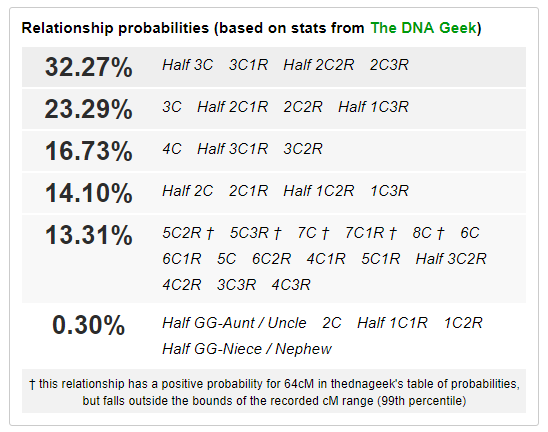 As you can see, there are many possible relationships with this amount of shared DNA. The important thing at this stage is just to make sure my projected relationship is actually possible.
Now that I know it's possible that my dad and MJ could be third cousins (or half 3C), I need to independently verify MJ's tree.
Verifying the Tree
Re-creating a matches family tree is a very important and necessary step in genetic genealogy. I can't use this DNA match as evidence of anything until I've verified the tree.
So let's get started.
To recap what I detailed in my last post, Bartholomew married Catherine Dignan in 1856 in Elizabeth New Jersey.
Between 1857 and 1866, the couple had eight children: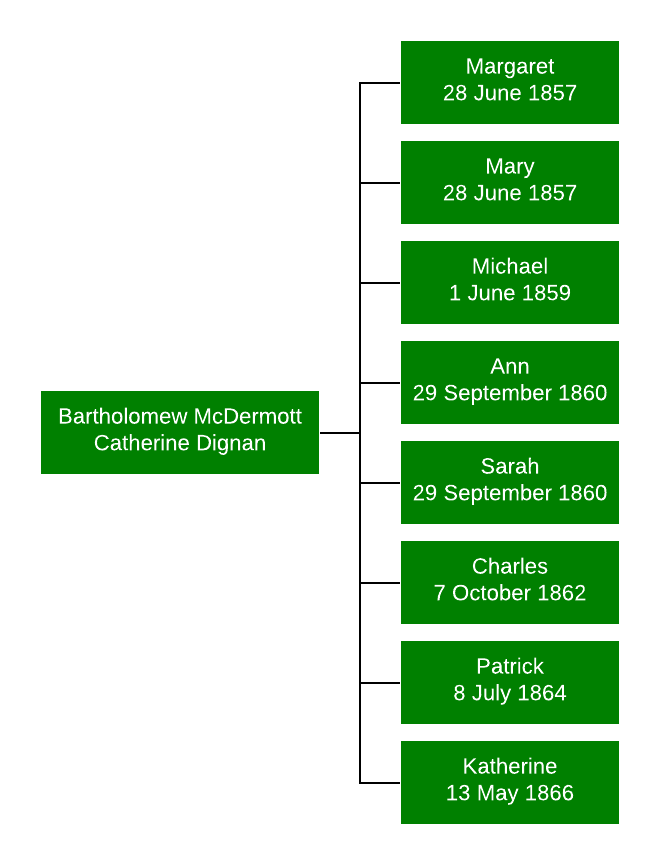 MJ is said to be descended from Katherine McDermott who was born in 1866. So I want to focus my research on just Katherine for now.
Let's start with her baptism record.
Katherine was baptized at St. Patrick's Roman Catholic Church in Elizabeth on May 20, 18661.
May 20 1866 Catharine McDermott, born May 13 of Bartholomew McDermott & Cath Degnan. Sponsors Patrick Rogers & Mary J. Rogers
This McDermott family moved across Newark Bay to nearby Bayonne not long after Katherine's birth where they appear in the 1870 census2 .
See my discussion about the conflicts of this census record in my previous post.
In 1883 Katherine married Charles H Jaeger at the age of seventeen. Because she was too young to marry, the marriage certificate notes that she had her mother's consent3.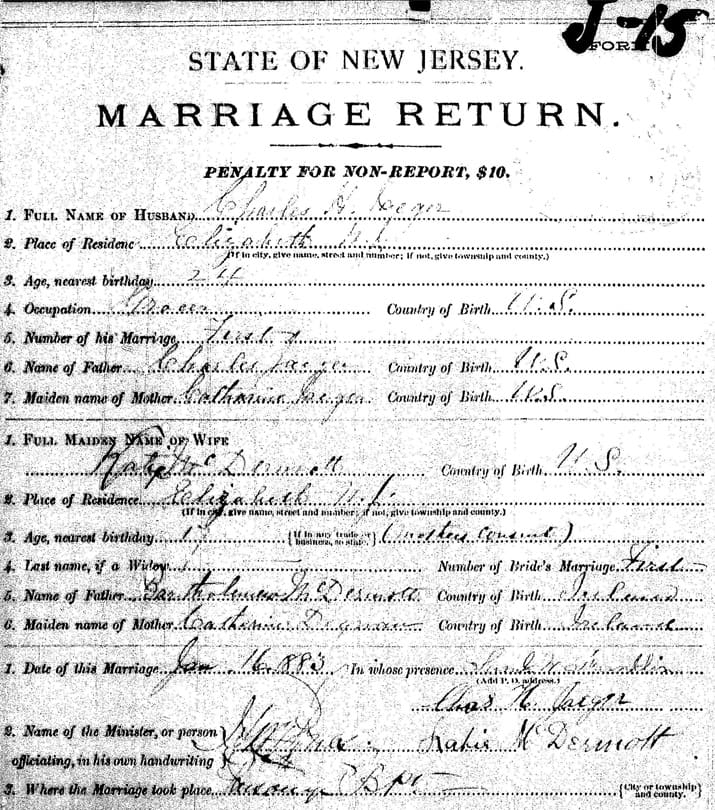 Abstract: Charles H. Jaeger of Elizabeth, age 24, married Katie McDermott of Elizabeth, age 17, with her mother's consent, daughter of Bartholomew McDermott and Catherine Degnan. Married on 16 January 1883 and witnessed by Samuel Franklin.
The witness, Samuel Franklin, was Katherine's brother-in-law.
Between 1883 and 1898, Charles and Katherine had eight boys: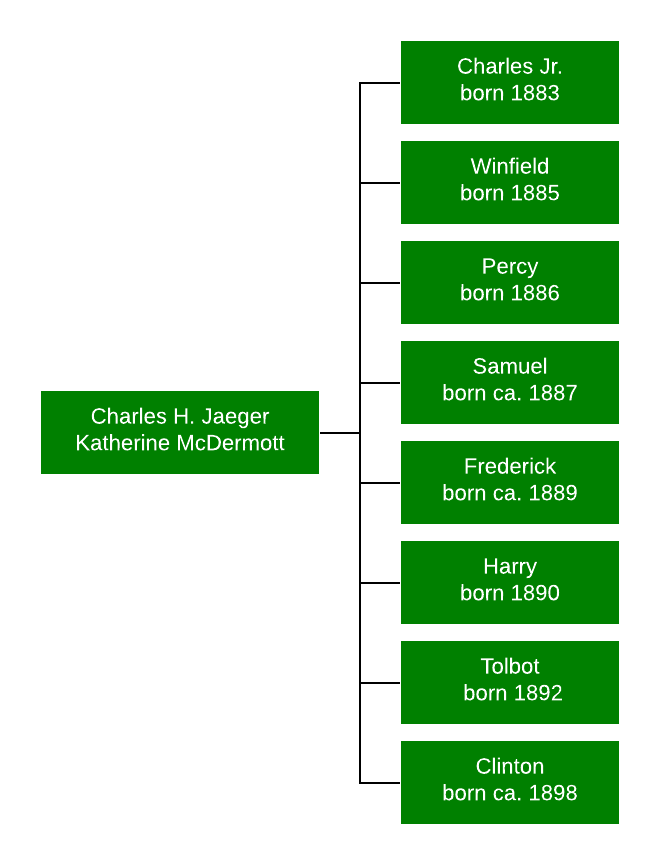 MJ descends from Harry, so I pulled his birth certificate from the NJ State Archives: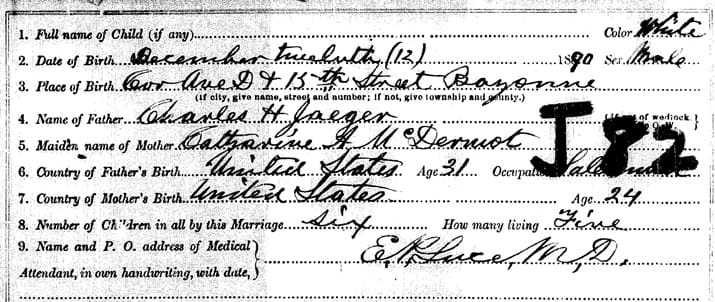 Abstract: [unnamed male child] born December 12th 1890 in Bayonne to parents Charles H Jaeger and Catherine A McDermott. This is the sixth child born to this marriage.
Harry, born in 18904, would eventually marry Lily Clare in 19175.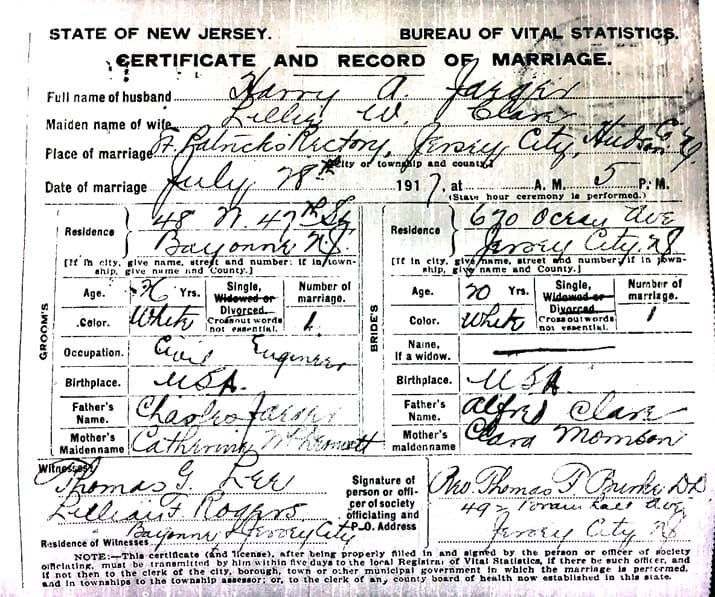 Abstract: Harry A. Jaeger & Lillie W. Clare, married in St. Patrick's Rectory, Jersey City, Hudson Co., NJ on July 28th 1917. Harry (26) is a resident of Bayonne, works as a civil engineer, and is the son of Charles Jaeger and Catherine McDermott…
Harry and Lily were the known grandparents of MJ6.
Verified
So in a relatively short period of time (and a trip to the NJ State Archives), I was able to gather enough evidence to conclude that MJ does indeed descend from Bartholomew and Catherine Dignan.
One interesting bit of knowledge I picked up in my research was in a newspaper article published in 1942 in the Jersey Journal. It talks about how Harry was the City Engineer in Bayonne and includes a short bio that mentions his wife, children, parents and his grandfather, Bartholomew McDermott7!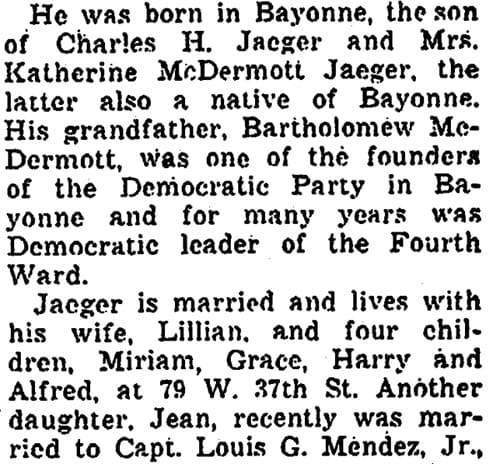 [Harry] was born in Bayonne, the son of Charles H. Jaeger and Mrs. Katherine McDermott Jaeger, the latter also a native of Bayonne. His grandfather, Bartholomew McDermott, was one of the founders of the Democratic Party in Bayonne and for many years was Democratic leader of the Fourth Ward.
What a find!
If Bartholomew was my 3x Great Grandfather, I was pretty impressed and even more curious about his life after reading about him.
I knew from the 1860 census that his personal estate was only worth $5 after several years here in America. I wondered how he went from to a recent immigrant with very little money to an active leader in his community in Bayonne.
What's Next
Now that I've verified MJ's connection to Bartholomew of Bayonne, I have a strong piece of evidence that this could be our shared ancestor.
But really all I've done is verify that MJ descends from Bartholomew McDermott and Catherine Dignan. The fact that my dad and I also descend from a Bartholomew McDermott doesn't mean anything in this context.
It's just another clue.
It's still possible that there were two completely different Bartholomew McDermott's, and that MJ is related to us on a completely different line of our family tree.
So I don't want to fall into the trap of confirmation bias. I need to do more research and find other DNA test takers.
If I can compare MJ's DNA to my other known matches, I can eliminate the possibilities of the relationship occurring on other ancestral lines.
Once I've taken that as far as I can with the people who have already tested, I can formulate a hyper-targeted testing plan to pinpoint exactly how MJ might be related to my dad and me.
It's time to dig into my other DNA matches!
Footnotes