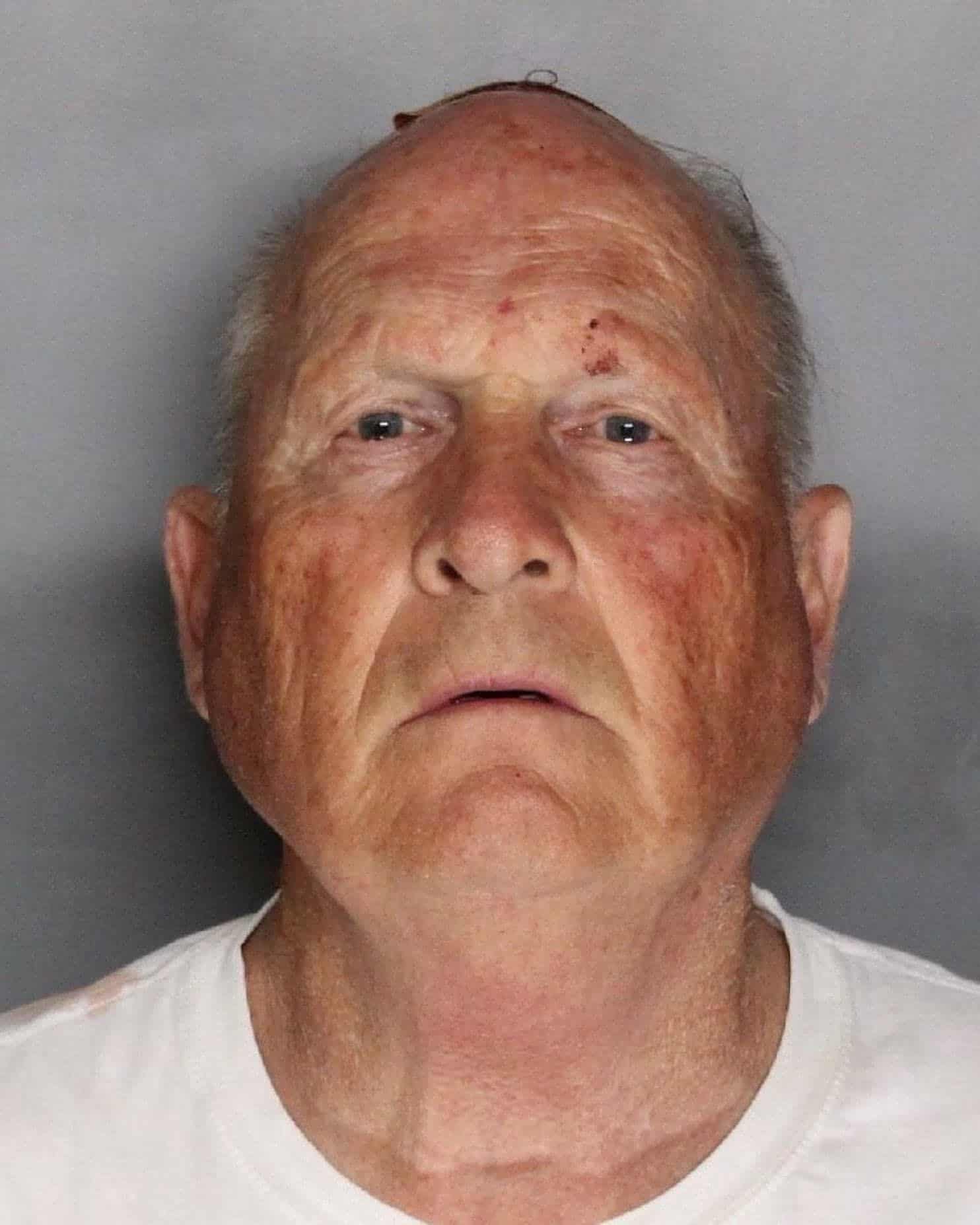 Joseph James DeAngelo Jr. has pled guilty to a series of murders and sexual assaults that took place in California in the 1970s and 1980s characterized by their exceptional cruelty and brutality. Over the decades, he has been known as the Golden State Killer, the Diamond Knot Killer, the Visalia Ransacker, the East Area Rapist, the Original Night Stalker, and EARONS (East Area Rapist/Original Night Stalker). He would stalk his victims beforehand, case their homes thoroughly, and would sometimes telephone them after the attack to terrorize them further. He would often attack couples in their homes, tying up the man and sexually assaulting the woman.
His first murder was the shooting of 45-year-old Claude Snelling on September 11, 1975. He murdered Brian and Kate Maggiore in their home in Rancho Cordova on February 2, 1978. He murdered Debra Manning and Robert Offerman in Goleta on December 30, 1979. Charlene and Lyman Smith were murdered in their Ventura home on March 13, 1980. Patrice and Keith Harrington were murdered in Dana Point on August 19, 1980. Manuela Witthuhn was murdered in Irvine on February 6, 1981. This was followed by the double murder of Gregory Sanchez and Cheri Domingo in Goleta on July 27, 1981. His last victim was 18-year-old Janelle Cruz of Irvine, whom he killed about five years later, on May 4, 1986.
The FGG investigation in this case was conducted by Barabara Rae-Venter, whose work in identifying a living Jane Doe and uncovering serial killer Terry Peder Rasmussen, described below, inspired Detective Paul Holes to ask her to identity the Golden State Killer. This investigation received a good deal of media attention and placed both FGG and the GEDmatch database in the spotlight. This generated a good deal of controversy and criticisms of the new investigative technique, and also inspired many law enforcement agencies to adopt it to solve their own cold cases.
On June 29, 2020, DeAngelo pled guilty in Sacramento County Superior Court to 13 counts of murder, and 13 counts of felony rape, for which he was sentenced to 11 terms of life in prison without parole. He was then 74 years old. The statute of limitations had run out on 50 of the rape charges, all of which he admitted perpetrating. Some of these charges were prosecuted instead as kidnapping to commit robbery, and this is how they are coded in this database. Many of his crimes were never formally charged, including crimes he committed against the male companions of his rape victims, who were often tied up, threatened, and beaten. All of these charges are coded as having a disposition of 'NCO', which denotes crimes a perpetrator was not charged because he was charged instead with a more serious crime arising out of the same incident. The code 'SL' is used for the rapes which could not be charged because the statute of limitations had expired.
The investigation into the Golden State Killer was important for the development of the law concerning forensic DNA in California. Some of the victims' families, led by Bruce Harrington, lobbied the California State legislature to pass Bill SB-1242 which authorized increases in DNA collection from all prisoners convicted of felonies.
There are also several persons who were investigated by police as suspects. Over the years, many suspects had their DNA samples taken by police and there was at least one wrongful prosecution.
A DNA sample was taken with a court order from prisoner Paul Schneider in 2004. About 3 dozen death row inmates in California were examined and had their DNA taken – 5 of them by force. Another career criminal had his body exhumed by court order.
A DNA sample was also taken from Joe Alsip, a business associate of Lyman Smith, who was wrongfully prosecuted for the murders of Lyman and Charlene Smith. He was bound over for trial after a preliminary inquiry, but the charges were later dropped by prosecutors. He was released for lack of evidence in May of 1982.
Michelle McNamara reports that police continued to suspect one particular male for many years. He was first stopped by police in 1977, and they noted several items in his vehicle which they found suspicious, including a bottle of hand lotion in the front of the car as well as a rope, a pair of tennis shoes, a firearm, and a hunting knife that were found in his trunk. McNamara states, "They couldn't shake the memory of what they found inside his car. That's why, decades later, his DNA was collected and analyzed by the crime lab. He was exonerated despite the fact that police thought he was The One." This demonstrates the strength of police tunnel vision, and how even very slender evidence can lead to decades of suspicion.
There was also one male who had his DNA sampled as part of an earlier investigation, not conducted by Rae-Venter, to track the Golden State Killer using his Y-chromosome. Police obtained a court order for a DNA sample from a 73-year-old man living in a nursing home in Oregon. His DNA cleared him of involvement in the crimes.
Barbara Rae Venter reports that in the course of their investigation, police worked about 200,000 hours, spent about $10 million USD, and placed about 5,000 individuals under surveillance. In total, about 300 suspects had their DNA sampled by police before being cleared of involvement in DeAngelo's crimes.
Sources:
Balsamo, Michael, Jonathan J. Cooper and Gillian Flaccus. "DNA Search for California Serial Killer Led to Wrong Man." Physics.org, April 28, 2018. Accessed January 1, 2021. https://phys.org/news/2018-04-dna-california-serial-killer-wrong.html.
Bee Staff and Wire Reports. "These Are the Crimes DeAngelo Pleaded Guilty to in the Golden State Killer Case." Sacramento Bee, June 29, 2020. Accessed December 13, 2020. https://www.sacbee.com/news/local/crime/article243866887.html.
Cason, Colleen. "The Silent Witness." Ventura County Star, November 28, 2002. Archived. Accessed January 1, 2021. www.coldcase-earons.com/2002-Cason-SilentWitness.pdf.
GoldenStateKiller.com. "List of Attack Locations." GoldenStateKiller.com, 2020. Accessed December 13, 2020. http://www.goldenstatekiller.com/attack-list.php.
Hallissy, Erin, and Charlie Goodyear. "Court Says Inmate Must Give DNA/Suspect in 20-Year-Old Murders." San Francisco Chronicle, April 25, 2002. Archived. Accessed January 1, 2021. https://web.archive.org/web/20180105214004/http://www.sfgate.com/bayarea/article/Court-says-inmate-must-give-DNA-Suspect-in-2845640.php.
Kincaid, Alex. "Sun City Woman Survived Attack by East Area Rapist. She Never Gave Up Hope He'd Be Caught." Island Packet, March 8, 2018, last modified April 26, 2018. Accessed December 13, 2020. https://www.islandpacket.com/news/local/crime/article204163654.html.
McNamara, Michelle. I'll Be Gone in the Dark. New York: Harper, 2018, at 265, 338.
Miller, Aron. "DNA Findings Throw New Light on Old Case." Ventura County Star, October 8, 2000. Archived. Accessed January 1, 2021. www.coldcase-earons.com/2000-10-08.pdf.
Pelisek, Christine, Sandra Sobieraj Westfall, and Adam Carlson. "These Are the Golden State Killer's Murder Victims: Newlyweds, a Mom and More Lives Cut Short." People, April 26, 2018. Accessed December 13, 2020. https://people.com/crime/joseph-deangelo-golden-state-killer-victims/.
People v. Joseph James DeAngelo. First Amended Felony Complaint, No. 18FE0080017, August 20, 2018. Accessed December 13, 2020. https://www.peopleversusjosephdeangelopressmaterials.com/.
Rae-Venter, Barbara. I Know Who You Are: How an Amteur DNA Sleuth Unmasked the Golden State Killer and Changed Crime Fighting Forever. Ballantine Books, Kobo Edition, February 2023.
Media